Garfour Waterproof Marine Boat Rocker Switch Aluminum Panel 5 Gang with Dual USB Slot Socket 3.1A + Volt Meter Blue LED Light for Car Rv Vehicles Truck
1 year ago
Muti-functional: Blue LED light indicator, waterproof board, 12V charger, 12V Voltmeter Display and double 5V USB power adapter
Monitor in realtime: Digital voltmeter can monitor battery healthy status and ensure all equipments are used safely.With blue LED , it is also easy to read the voltage in the evening.The usage life for the battery and the engine can be extended under the protection.
Easy to install: Installation is simple and can be mounted horizontally or vertically,Panel comes with pre-wired,wiring instructions. mounting screws and a set of labels;With multi-function stickers for DIY your specific need.
Extensive Application: 5 pin switches widely applicable for marine boat car Rv vehicles truck yacht launch pleasure-boat
customer service: Any questions please feel free to contact us, we would deal with it in a 24 hour time. And we will try our best to satisfy with you.
Suppliers
Building A, Huangnitian Workshop, Xinshapu, Humen Town, Dongguan City, Guangdong Province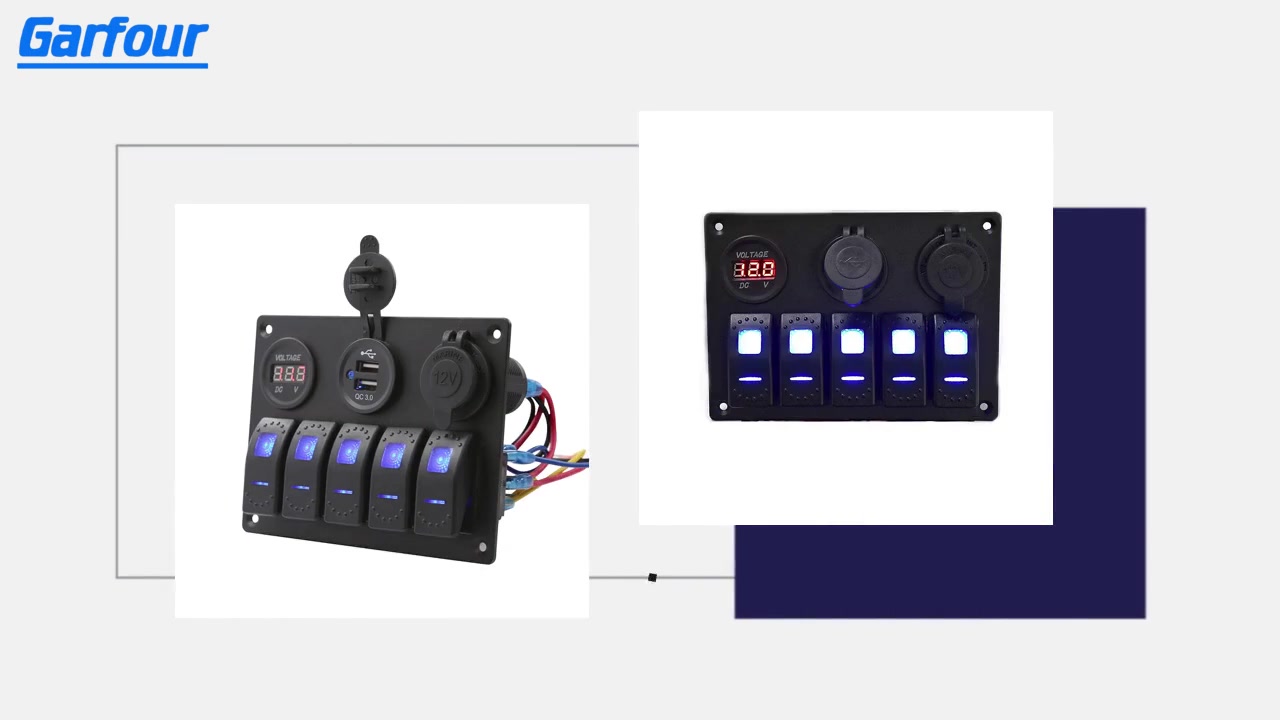 Specification :
Material : ABS plastic + metal
Size : 4.9x3.5x4.3 inch
Weight : 0.6 Lbs
Rocker switch :
Loop circuit : ON - OFF
Input voltage : DC 12V / 24V
Dual USB charger : Input : DC 12V-24V
Output : DC 5V 3.1A
LED color : Blue
Digital voltmeter :
Input : DC 12V-24V
Voltage test range : DC 6V-30V
Feature :
Prewired and easy to install , suit well for 12V and 24V car vehicle,yacht,ship,caravan,truck ,etc.
rocker switches , controlling universal equipments in the vehicle : headlight,foglight,width light,car refrigerator , car vacuum , other automobile external equipments and so on.
waterproof rubber seal-cap keeps it waterproof , good for marine. Digital display voltmeter and ammeter monitors the battery healthy status in realtime and extend the usage life for the battery.
Dual USB charger DC 5V 1A+2.1A , charging mobile phones , GPS , digital cameras, GPS, PDAs and other digital equipments.
6 Illuminated LED rocker switch ,matching well to vehicle and marine label , good for DIY.
Contain :
1 X rocker switch panel
6 X Screw
1 X Sticker