SPC Flooring Production Line
1 year ago
SPC- flooring parallel extrusion Line is the most mature SPC floor extrusion machine in China's flat double extruder, its performance, stable operation, high output, low energy consumption, screw life of more than 180 days, Successive By ISO, CE, UL Quality certification system.
Suppliers
Address: NO.800 Baoyuan Road NO.4, Fengbang, Jiading District, Shanghai, China
SPC Flooring Production Line Introduction
SPC- flooring Parallel Twin-Screw extrusion Line is the most mature flooring extrusion machine in China, its performance, stable operation, high output, low energy consumption, screw life of more than 180 days, Successive By ISO, CE, UL Quality certification system.
● The overall layout is reasonable, compact, small in size, and beautiful in appearance.
● The fuselage is for welding low carbon high - quality steel profiles. The cross-section of The fuselage adopts frame structure, and The steel ribs boards are set at The same time, The rigidity is good, And the overall body treatment and overall processing are adopted, and the deformation is small.
● The deceleration distribution drive system is designed and manufactured by our company regarding German technology. The transmission wheel train is carefully manufactured and specially treated with ultra-high-strength special alloy steel such as 20Cr2Ni4 and 45CrNiMoVA. The gear has high strength with high surface hardness and high toughness of the core; the box is processed by horizontal machining center; and adopts bearings of German INA company, etc. Imported bearings. Therefore, the whole has the advantages of high bearing capacity, large output torque, high torque coefficient, low noise, stable operation, and long service life.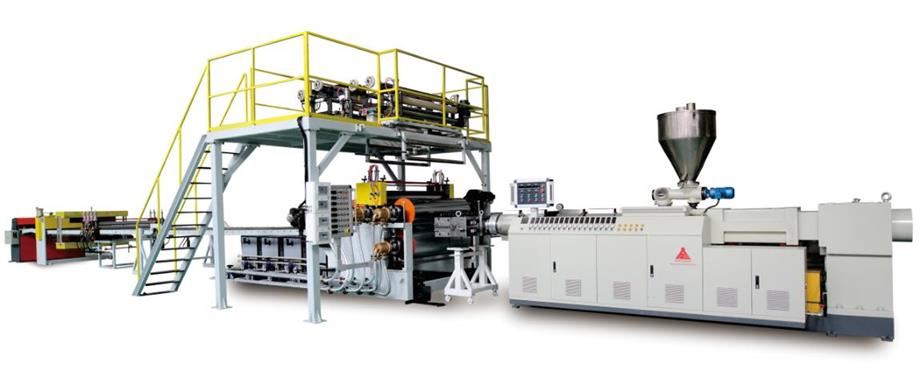 SPC Flooring Production Line Technical parameters
| | | | | | | | |
| --- | --- | --- | --- | --- | --- | --- | --- |
| Model | Screw Diameter | L/D | Driving Power | Design Output | Actual Output | Final Assembly Power | Actual Power |
| PS90-28 | 90mm | 28:1 | 45Kw | 700Kg/h | 500kg/h | 169Kw | 55% |
| PS115-28 | 115mm | 28:1 | 75Kw | 1200Kg/h | 800kg/h | 225Kw | 55% |
| PS130-28 | 130mm | 28:1 | 110Kw | 2200Kg/h | 1600kg/h | 297Kw | 55% |
SPC Flooring Extrusion Line Application
SPC flooring production line can be used to produce SPC Vinyl flooring and LVT flooring, SPC flooring has a good commercial prospect:
● 100% Environmental protection: The main raw materials of the SPC floor are high-quality PVC resin, high-grade calcium powder, natural environmental protection, 100% free of formaldehyde, lead, benzene, no heavy metals and carcinogens, no soluble volatiles, no radiation.
● Super antiskid: SPC Floor wear-resistant layer has a strong anti-skid performance, in the case of water, not easy to slip.
● Antibacterial and mildew proof: After special anti-bacterial and antifouling treatment, its surface has a strong killing ability to most bacteria, and can effectively inhibit bacterial reproduction.
● Suitable underfloor heating: SPC floor has good thermal conductivity and heat dissipation capacity. It is the first choice for floor heating and energy saving.
● High elasticity and toughness: People are not easy to be injured when they fall accidentally.
● Super wear resistance: The wear-resistant layer can be used for 10-50 years under normal use.
● Fire retardant: It can effectively flame retardant, fire rating B1 does not produce toxic and harmful gases.
● Waterproof and damp proof.
Finished Products - SPC rigid core vinyl flooring

SPC Flooring Production Line Customer Factory Display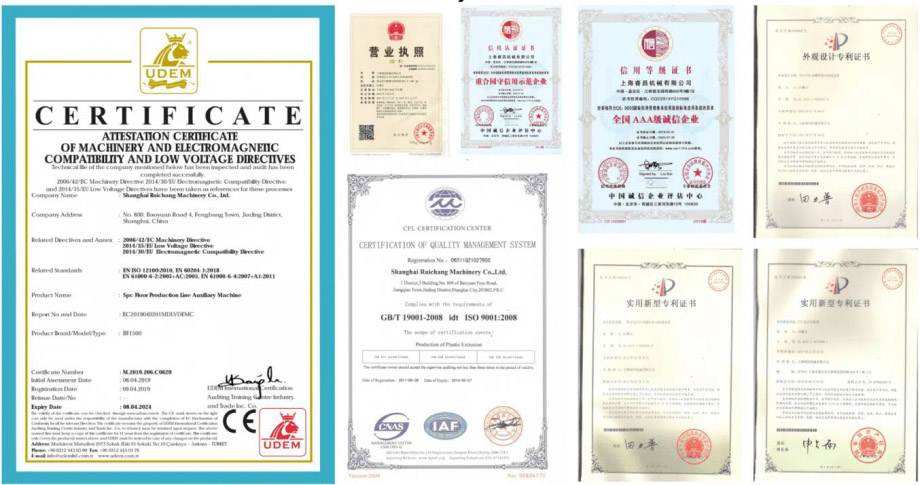 Hot Tags: spc flooring production line, China, manufacturers, suppliers, factory, customized, in stock, made in China, PE pipe production machine, Door Pane Extruder, Foam Board Extrusion Line, wall panel extrusion macine, PVC Profile Extrusion Line, SPC Extrusion Machine.
Suppliers
Address: NO.800 Baoyuan Road NO.4, Fengbang, Jiading District, Shanghai, China