Best Metal Brackets Installation Factory Price - Surealong
11 months ago
SUREALONG Perfect Metal Brackets Make Perfect Living for you


Perfect Floating Shelf Hardware for Heavy Duty Floating Shelf to add More Storage and Visual Interest to Any Wall.

Beautiful and simple- Make a statement and taking the place of artwork with these triangle rustic
floating shelves bracket or matel brackets that is just the right size for wall mounted storage.

Premium quality- Heavy duty floating shelf bracket is made of by the high strength steel,able to hold large floating shelves.

Suitable for any room- These high quality black shelf bracket is ideal for room with 4 different mounting setups,
holding any floating shelf of wood or metal for a wide variety of usage.

Simple to install- Floating shelf mount on these heavy duty shelf bracket is easy with an angled/offset screwdriver
and both angled bracket are perfectly aligned to fit any placement.

Customized for Customer-We special for Customized by your inquiry,can stisfied customer personalized demand.
Great Ideas for Floating Shelves
Book shelves - Add an interesting linear library behind the couch to spend a lazy afternoon lost in your favorite story.
Nursery room - Hang these shelf support bracket high if you want to make sure your kids can't reach the items or low for easy access.
Kitchen cabinet - Use metal wall shelves instead of wood to brighten up your kitchen with a cluster free look that blends well with these wall brackets for shelves.
Mini bar - Create the ultimate makeshift mini bar with these rustic shelf bracket when you don't have a designated space and showcase your favorite liquors on your wall ledge.
Inhouse garden - Brighten up and improve the air quality indoors with houseplants supported on these amazingly strong wall shelf brackets.
Bathroom rack - Don't worry about ugly rust stains in humid environment as these shelf brackets are protected with corrosion resistant coating.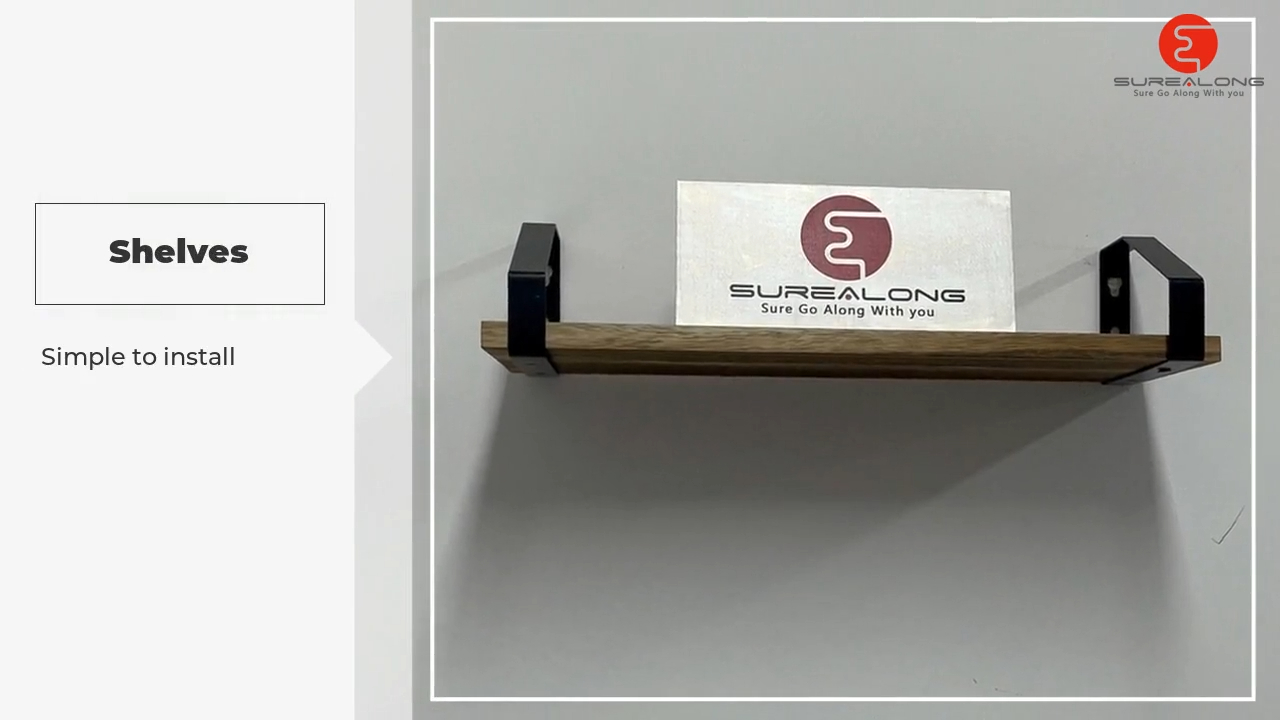 About SUREALONG
SUREALONG Group Corporation in this scope over 15 years, Concentrates on design , research,manufacturing,market,sales and after service of engineering parts and home&garden products. Our can provides high-quality manufacturing solutions for producing engineering parts and home&garden products. (metal parts,plastic parts, assembly parts etc.,)Customers rely on us to minimize risk and provide high-value solutions. Through open communication,trust and performance, we create a win/win experience for all involved.The professional technical team conducts a comprehensive quality control for this product in the production.
Advantages and Professional
1. History Founded in 2005, and engaged in this industry since 2000.
2. Scope Metal Stamping, CNC machining, Deep drawing, Laser cutting, CNC bending, welding etc.
3. Workshop More than 200 staff members(10 senior engineers)and workshop of 7000sqm
4. OEM/ODM Design service, by customer drawing or sample, customer logo/label
5. Quality ISO9001 TS16949 Rohs CE
Order Process
1: Get your drawings and requirements about Products.
2: Confirm products details.
3: Quotation, freight and delivery.Note: a. Sample unit cost will be 3 times based on the final quotation. b. Because samples are customized, it takes us more labor costs than mass production. c. Usually sample delivery time is around 10 to 20 days.(up to the products)
4: Provide PI to you, you make payment accordingly.
5: Start production, and keep in touch with you .Step 6: Send you details and photos when qualified sample is finished.Step
7: Shipment after above information is confirmed.
SUREALONG Philosophy
Trust
Surealong Group Corporation is committed to obtain and retain the trust of our customer, personnel and all our other interest groups. Therefore, we will always follow all the relevant customer and regulatory requirements.
Customer Satisfaction
SUREALONG will keep(meet or exceeds) our customers satisfied and confident of our performance. We strive to ensure that our business is profitable and continues to grow.
Continues Improvement
SUREALONG continuously and systematically improve our processes on the basis of customer feedback and benchmarking.as well as performance and efficiency data collected from our operations.
Strive for Excellence
We are committed to strive for excellence and to meet consistent aggressive goals in everything we do. Surealong as a professional engineering parts and home&garden products. supplier.