Chinese Demand for Baby Diapers Decreased, PP Non-woven Fabric Industry Operating Rate is Low, Profit Decline
2 years ago
In the first half of 2021, due to the impact of the epidemic and downstream demand, PP non-woven industry starts to decline somewhat, as of June 24, the national average PP non-woven operation rate remained at 62%, down 19% from the same period last year
Suppliers
Meilin Jiande Industry Area, Quanzhou, Fujian, China.
In the first half of 2021, due to the impact of the epidemic and downstream demand, PP non-woven industry starts to decline somewhat, as of June 24, the national average PP non-woven operation rate remained at 62%, down 19% from the same period last year.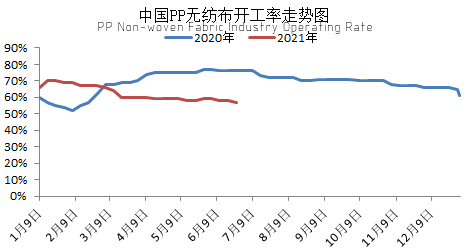 In the first quarter affected by the outbreak of the epidemic in Hebei, PP non-woven fabric started up to 68%, especially in Shandong and Hebei surrounding areas of North China started up. At that time, the orders of enterprises have been lined up to the end of March. The good times did not last long. As the order delivery of downstream raw material inventory increased and the demand for diapers decreased due to warmer weather, the construction started to decline in the second quarter, and as of June 24, it was down about 13% from the peak in January.
From the perspective of demand, on the one hand, as the epidemic stabilizes, the demand for medical supplies has entered the normal state, and there will not be a sudden increase in demand in 2020. On the other hand, although the recent announcement of the country's three-child policy, people of the right age do not seem to catch a cold. The demand for PP non-woven diapers for children will not fluctuate too much in a short time. On the contrary, with the arrival of aging, the demand for adult incontinence products has increased significantly. In addition, non-woven bags, furniture with non-woven fabric, the agricultural non-woven fabric will also be widely used.
In 2021, PP spun-bonded non-woven fabric has returned to a stable period. In the first quarter, due to the impact of the Hebei epidemic, the profit of the first quarter is basically the same as that of the fourth quarter of 2020, maintaining about 1000-2500 yuan. But as the weather gets warmer, the epidemic stability of the second-quarter profit down to about 100-400 yuan, or even dozens of yuan, the enterprises to maintain the main start. This month PP raw material prices down, the cost side to PP non-woven support is OK, to the profit rose to about 1000 yuan.
In general, domestic demand for baby diapers decreased, the stability of medical and health supplies, PP non-woven fabric industry this year to maintain stability;With the expansion of adult diapers and other downstream industries, PP non-woven fabrics are expected to improve in 2022