Guanyu 50L Vacuum Homogenizer Oil Emulsifying Machine Mixer Cake Gel Body Skin Cream Emulsifier Making Machine Cream
3 months ago
Vacuum emulsifying machine is an ideal option to produce high-grade skin care products, pharmacy ointment, and many other kinds of creams which need to be very soft and smooth. It has the functions of heating, mixing, scraping, rotating at different speeds and vacuum supply. It has a very wide application from cosmetics (skin cream, hair gel, lotion etc) and food (jam, chocolate, sauces etc.) to pharmacy (ointment, syrup, paste) and chemicals(painting, adhesives, detergents)
Suppliers
No.6,Songyuan Street,Baitang Village,Taihe Town,Baiyun Didtrict,Guangzhou City,Guangdong Province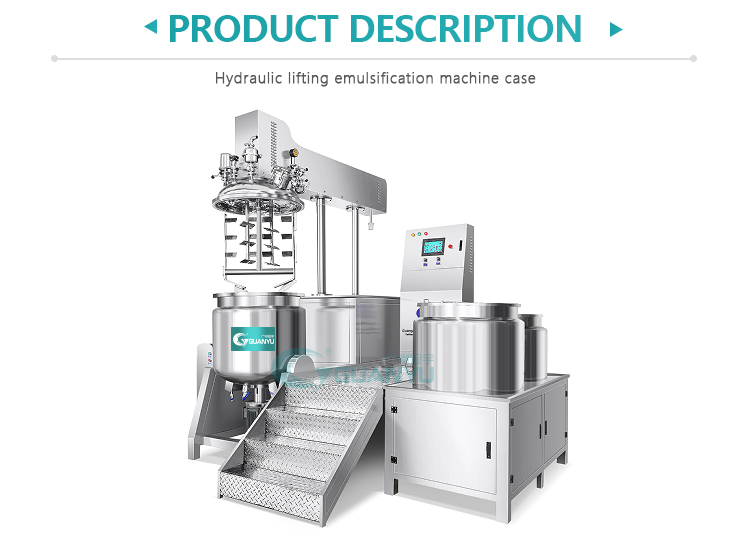 Features:
1. Homogenizer is installed on boiler bottom to increase motor power more thoroughly and strongly. It uses advanced German technology, with unique structure. The material moves of high-speed in the multi-gap between the rotor and the stator, which forms a strong hydraulic shearing. During few production, it can exert homogenizing effect fully.

2. Mightiness balance isotactic curve rotor is matched with stator with corresponding structure to realize liquid high-capability cut,rubbing,centrifugal to make sure exquisite and slick cream; boiler body and pipe surface mirror polishing.

3. Customer can choose frequency conversion timing homogenizer and highest rotate speed is 2900 r/min.

4. The oil tank and water tanks are equipped with rating stirring dispersion device 0.55KW, so that oil and water could be heated more quickly and evenly.

5. The lid is with a light observation hole, which can keep control of the material emulsification situation in the kettle. There is a small material entrance, which is convenient to add special essence into the kettle.

6. Bottom material discharging is easy to operate. The finished materials can be directly moved into the filling and packing
system. The materials can also be dumped out, which is easy to clean.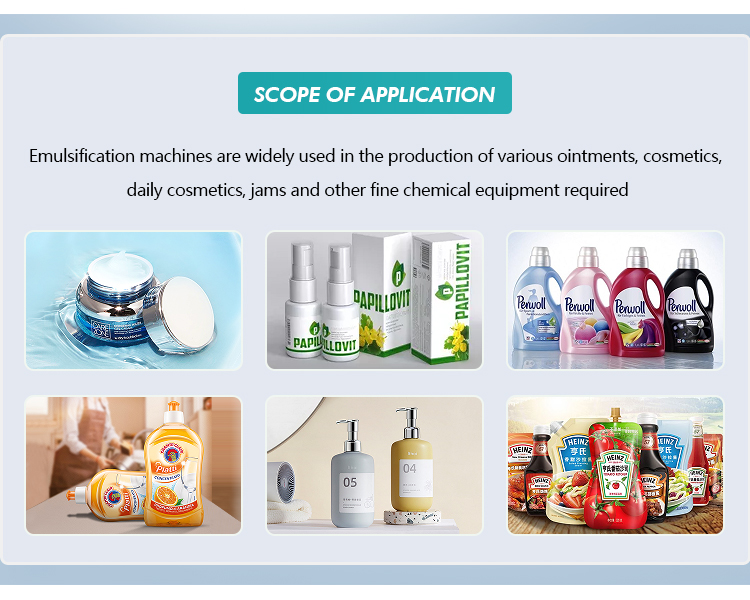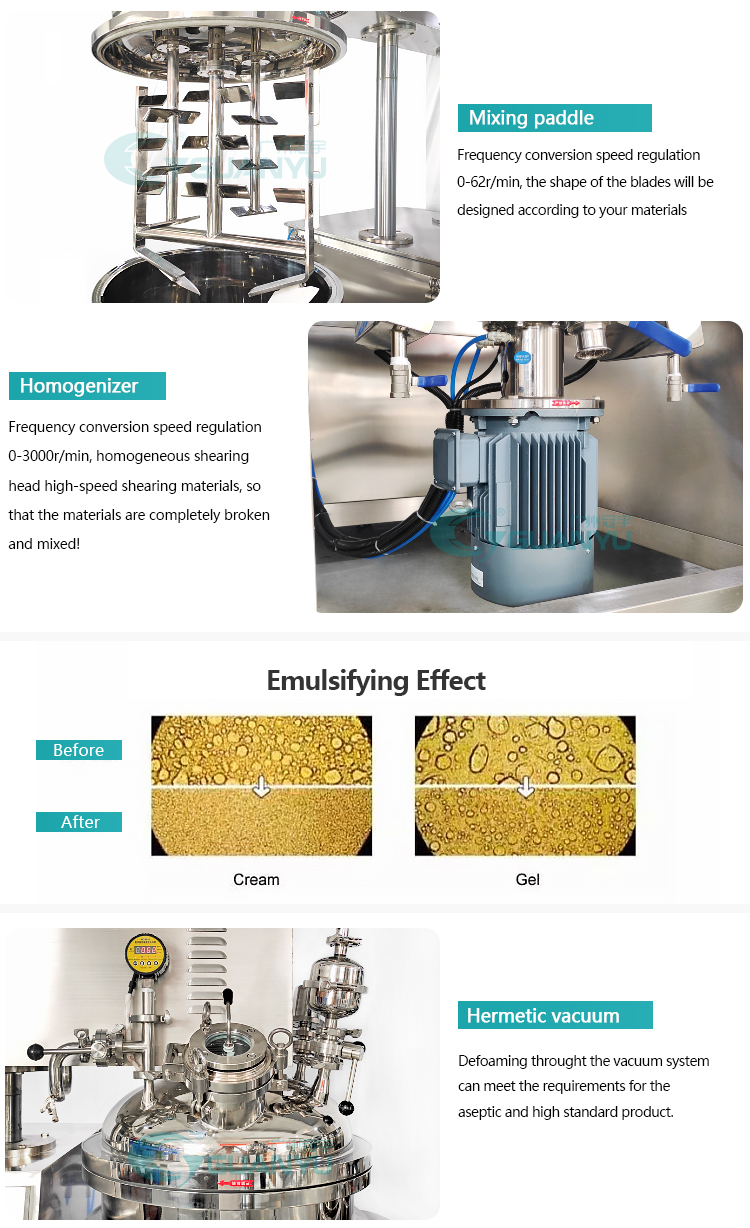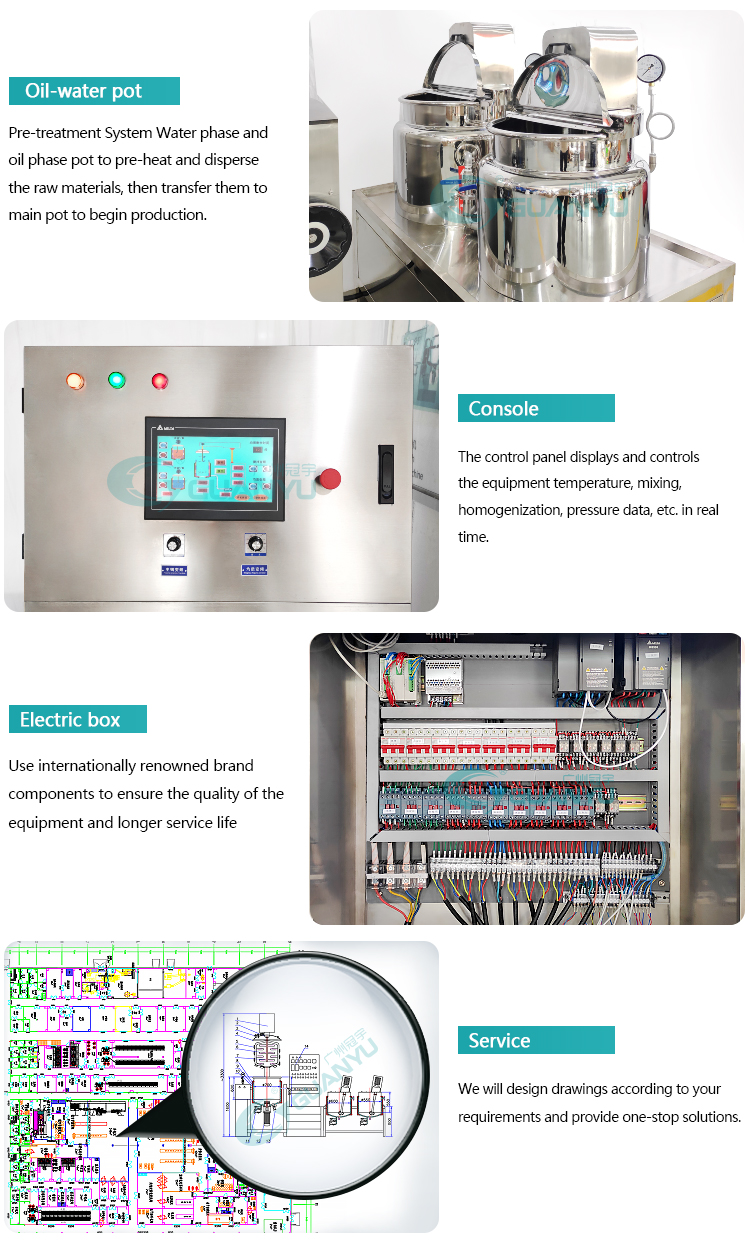 Vacuum emulsifying machine is an ideal option to produce high-grade skin care products, pharmacy ointment, and many other kinds of creams which need to be very soft and smooth. It has the functions of heating, mixing, scraping, rotating at different speeds and vacuum supply. It has a very wide application from cosmetics (skin cream, hair gel, lotion etc) and food (jam, chocolate, sauces etc.) to pharmacy (ointment, syrup, paste) and chemicals(painting, adhesives, detergents)

The machine is mainly made up of oil tank, water tank, vacuum homogeneous tank (main tank), heating system, mixing system, vacuum system, electric lifting system, operation control cabinet and piping system.