TOURBON Leather Axe Handle Protection Covers with Strap
3 months ago
-The axe handle guard is made of thick genuine leather.
-Hatchet handle guard with adjustable straps make sure stay tightly fitted to the handle
-Overstrike protector is easy to use, comfortable on hands. Gives axe authentic look and feel
-Ax guard: Approx 5.51" x 2.16" x 1.37", Weight:0.06lb
-Please note: Axe is not inclusive, and there are two color, red and brown.
Suppliers
No.12,Lianbian Yinbian Lianxing 1st Rd,Helong Street,Bai Yun District,Guangzhou,China
Features:
-Help to protect axe handle from damage and miss swings
Product Parameters
| | |
| --- | --- |
| Item Name: | TOURBON Leather Axe Handle Protection Covers with Strap |
| Item No: | OT540LE2 |
| Size: | 5.51" x 2.16" x 1.37" |
| Material: | Leather |
| Color: | Red and Brown |
| Weight: | 0.06lb |
Customer questions & answers
Question: Would this fit a cold steel axe gang hatchet?
Answer: Yes , this leather adjustable hatchet cover fit a cold steel axe gang hatchet
By Tourbon_Safar
Question: what is the thickness of the leather used to make this?
Answer: Looks like just shy of an eighth inch
By C.
Question: Does the color match the tourbon vintage leather axe head sheath and belt carrier? is it compatable with that belt carrier?
Answer: I wouldn't know. I have a huskvarna axe and the sheath it came with.
By Bobby Howard
Question: Hello, I have a tomahawk I would like to put this on. The circumfrence of the handle is a hair over 3.5 inches, would this fit?
Answer: Yes , this leather axe handle cover will fit your 3.5 inches handle tomahawk
By Lili23
Product details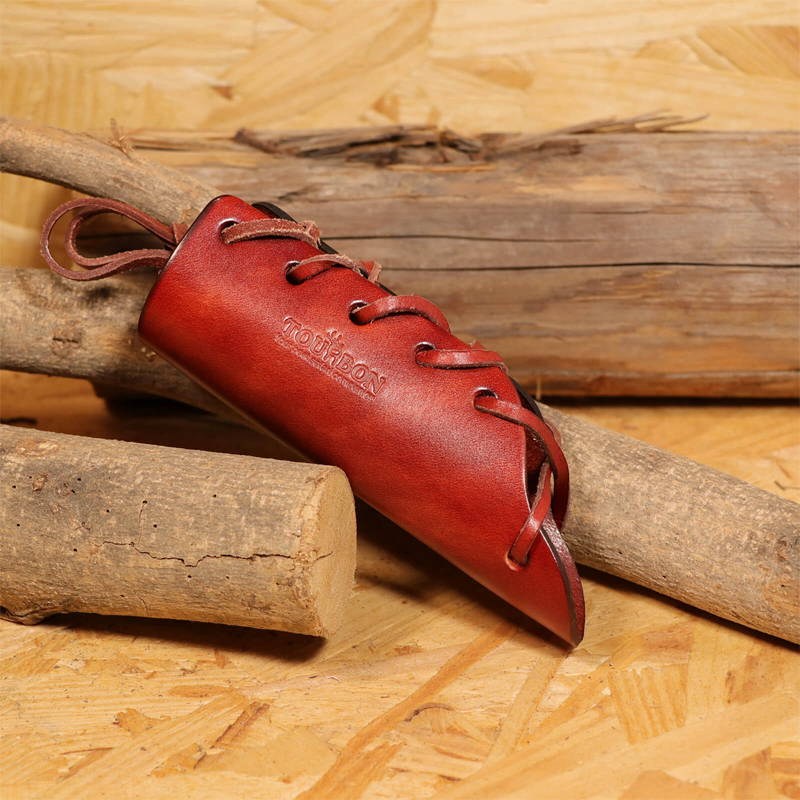 Axe collar
is made of premium leather.