New Smart 12V 24V 36V 48V auto adapt Solar Panel Charger Regulator 30a 40a 60a 80a 100amp mppt charge controller
6 months ago
Rated Voltage: 12V/24V/36V/48V Auto Adapt
Maximum Current: 30A/40A/60A/80A/100A/Customized 50A/Customized 120A
Customization:
Customized logo(Min. Order: 100 Pieces)
Customized packaging(Min. Order: 100 Pieces)
Graphic customization(Min. Order: 100 Pieces)
Shipping: Support Express · Sea freight · Land freight · Air freight
Suppliers
No.16, Luogang Huangang Second Road, Junhe Street, Baiyun District, Guangzhou, Guangdong, China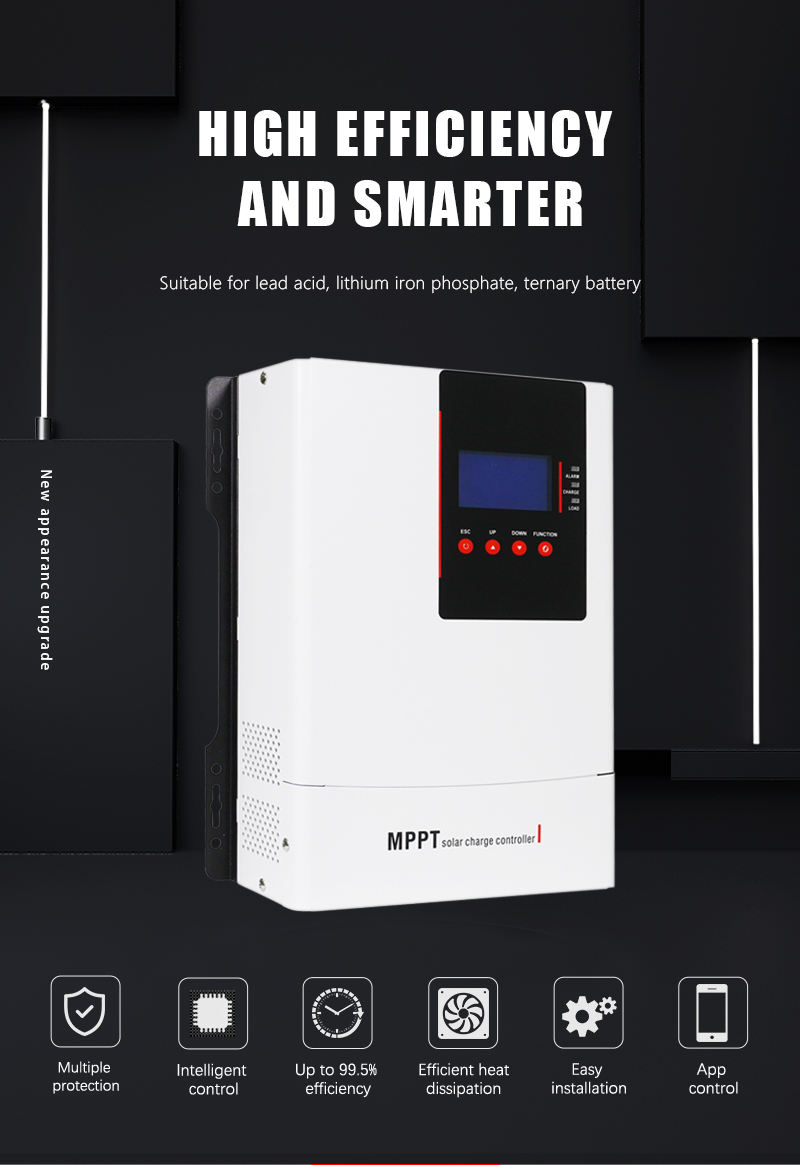 Presell NEW MPPT Solar Charge Controller 12V/24V/36V/48V Automatically Identifying
30a / 40a / 60a / 80a / 100amp Solar Panel Regulator
1* New modern design, Upgrade high effectively chip, Fully functional

2* MPPT solar charge controller advanced MPPT technology & ultra-fast tracking speed,with tracking efficiency more than 99.5%.
3* Suitable for multy batteries, Lead Acid battery AGM GEL STD, Lithium Ion Lifepo4 LBF Battery.
2* With the adaptive three-stage charging mode based on digital control circuit, MPPT Max controllers can effectively prolong the life-cycle of battery and significantly improve the system performance.
3* Multy protections, including overcharging, over discharging, and PV reverse polarity
protection, effectively ensure the safer and more reliable operation of the solar system for a longer service time. Battery temperature compensation, real-time energy recording and statistical function, automatic over-temperature power reduction function.
4* LCD and LED control, MCU control, built-in timer.
5* Wifi app control, Remote temperature sensor, Adopt USB to RS485 converter.
6* High voltage 72V and 96V could be customized. 50A and 120A are also available.
Do not hesitate to contact with us for more detail info or inquiry.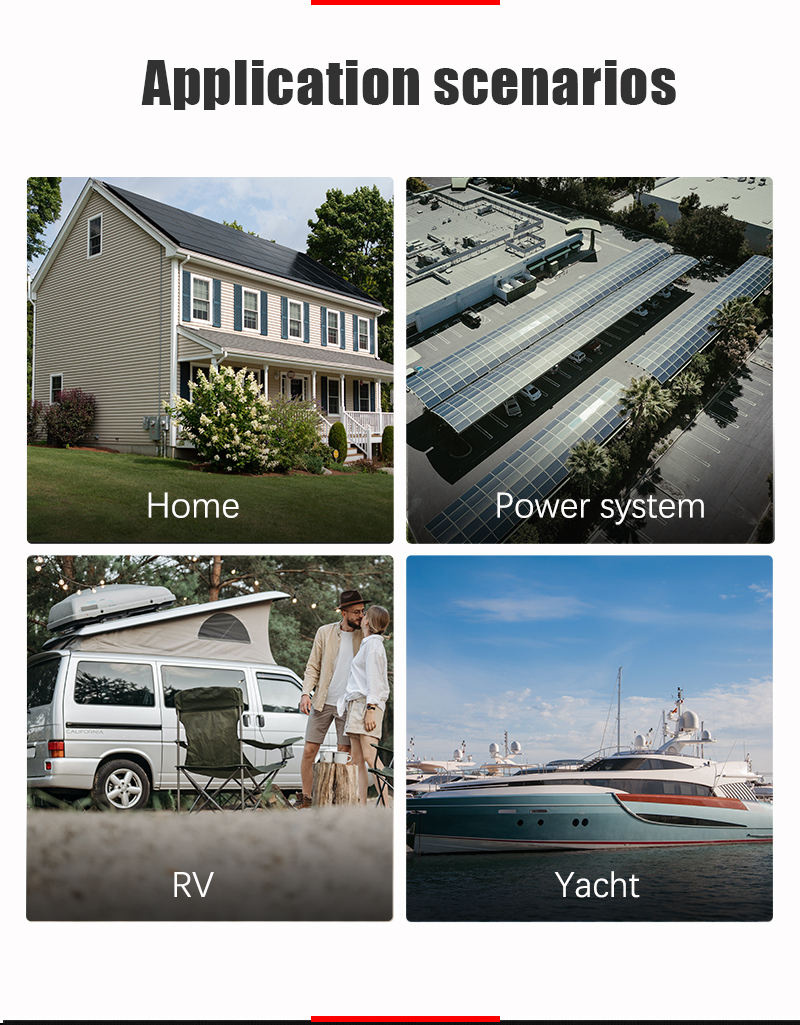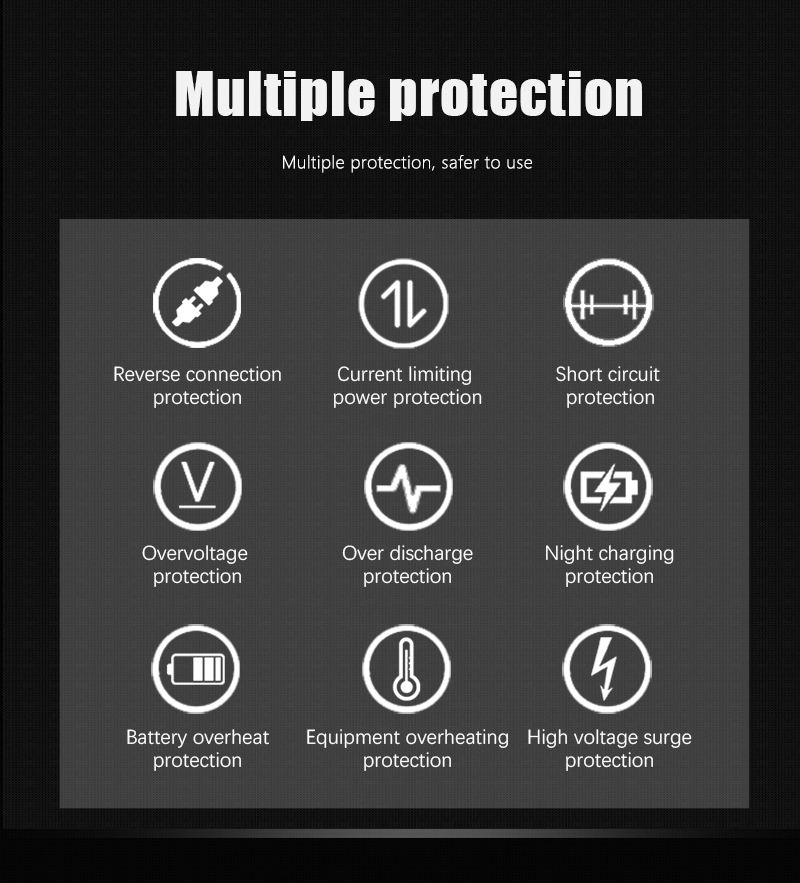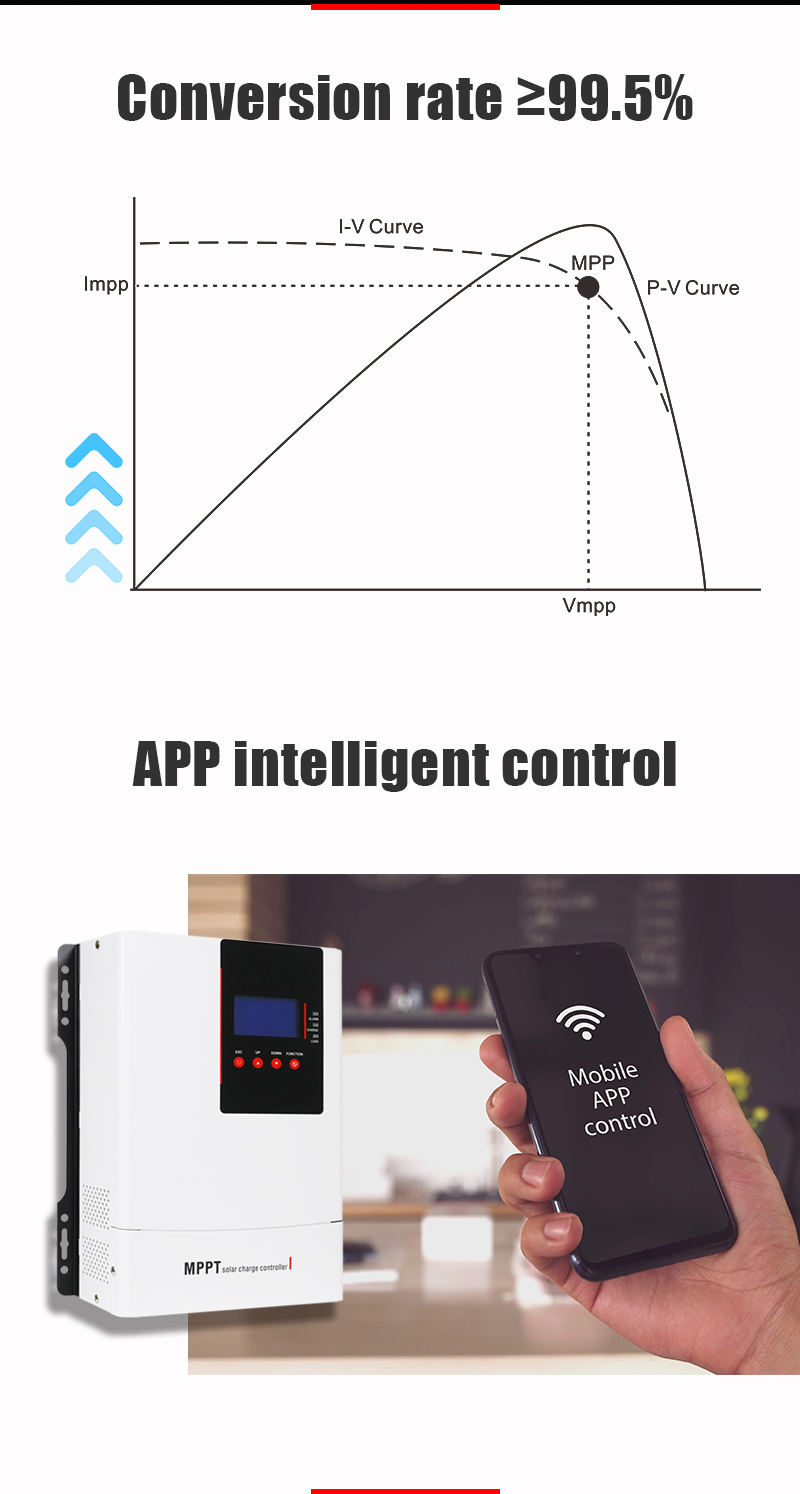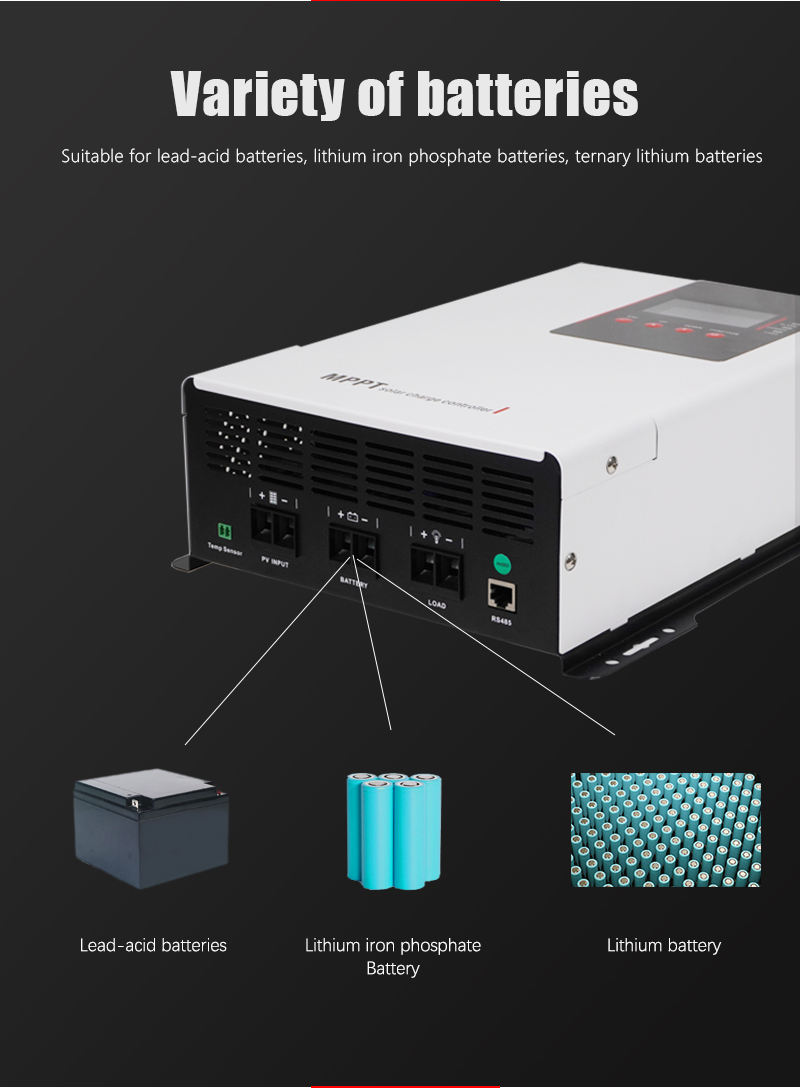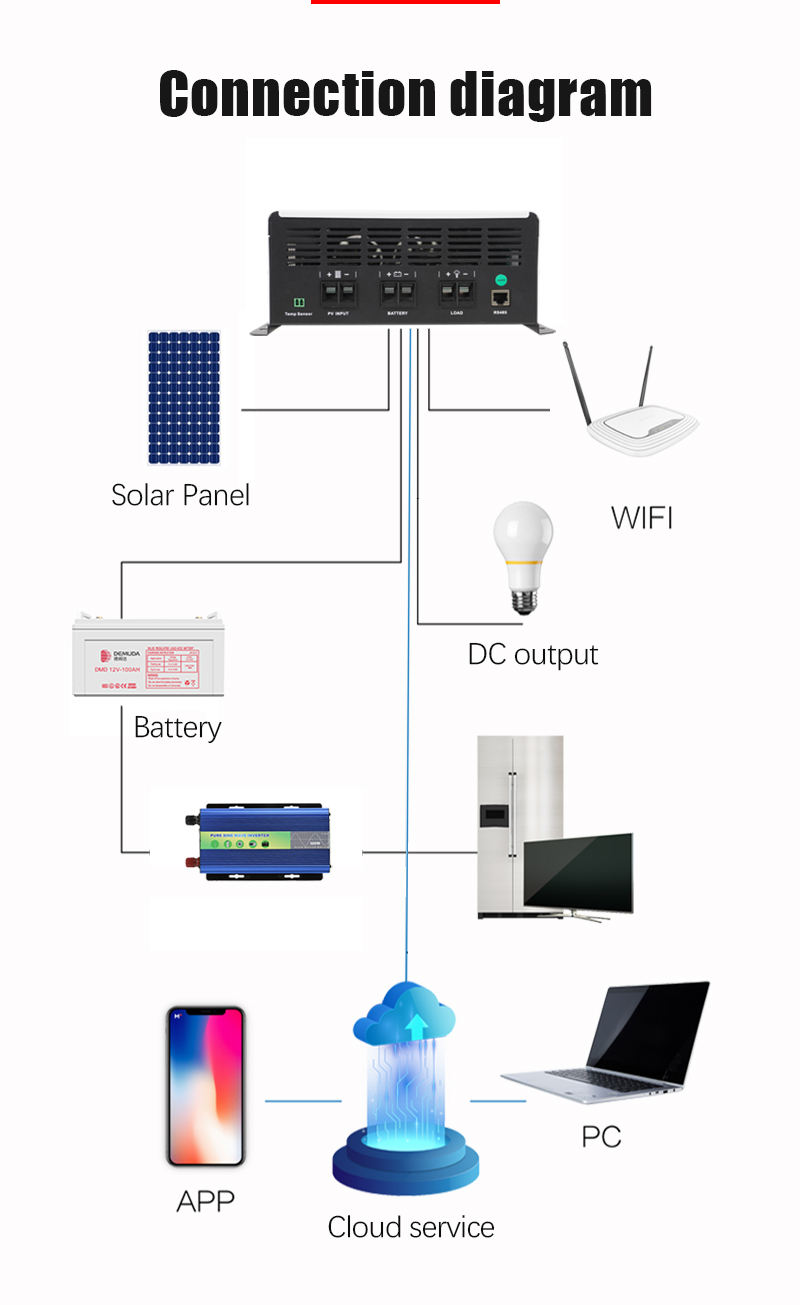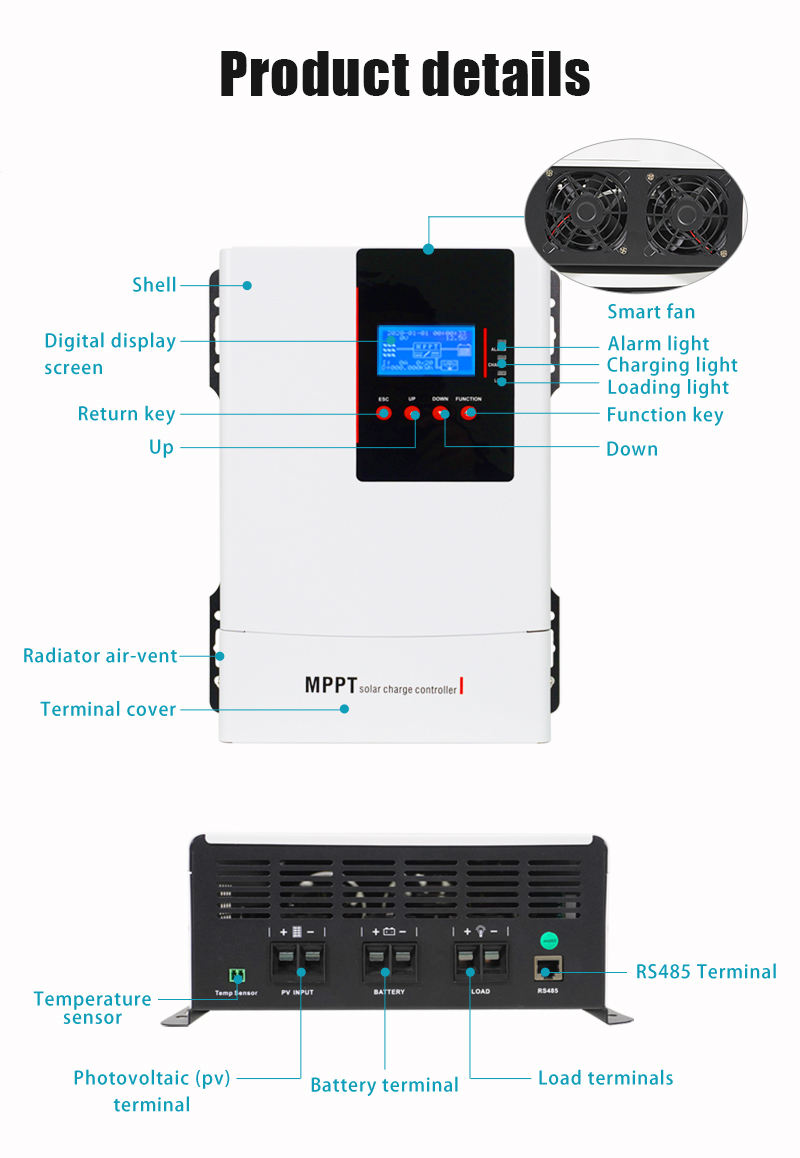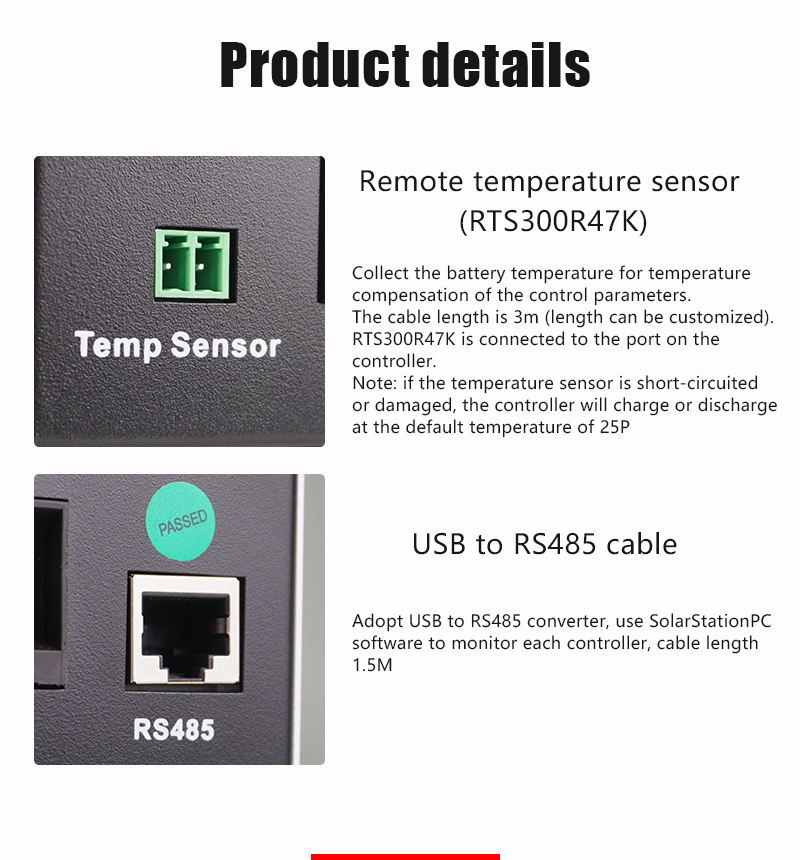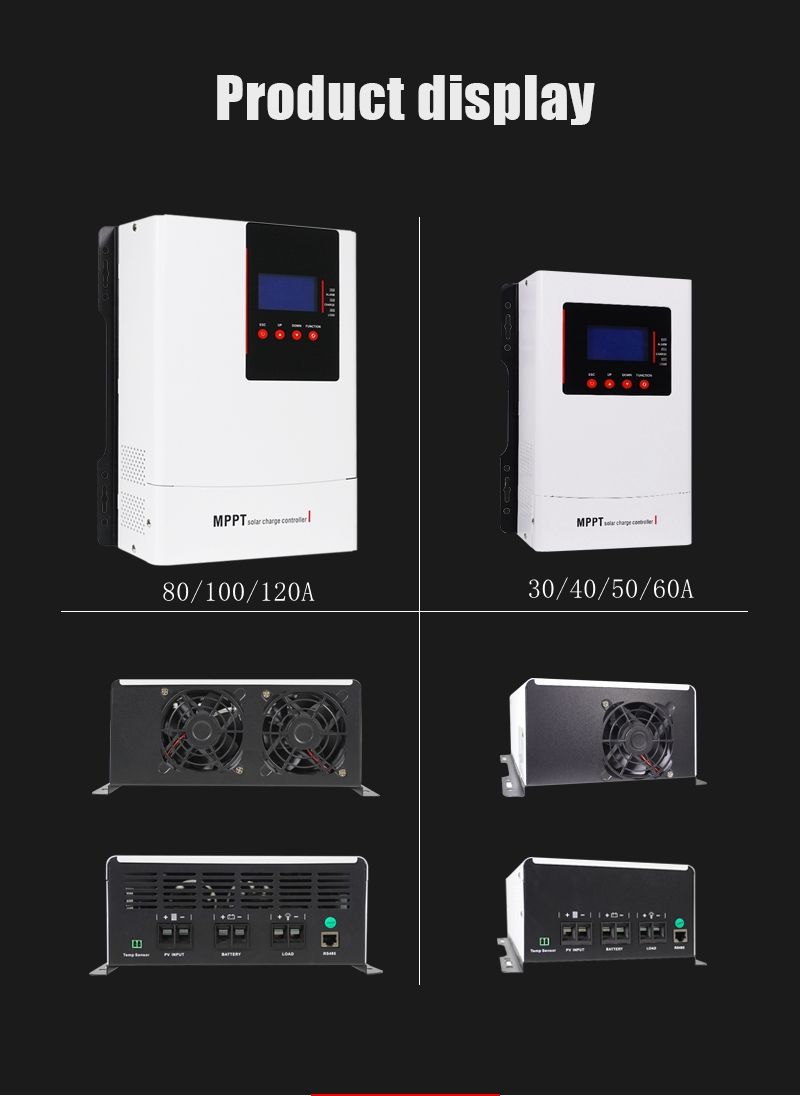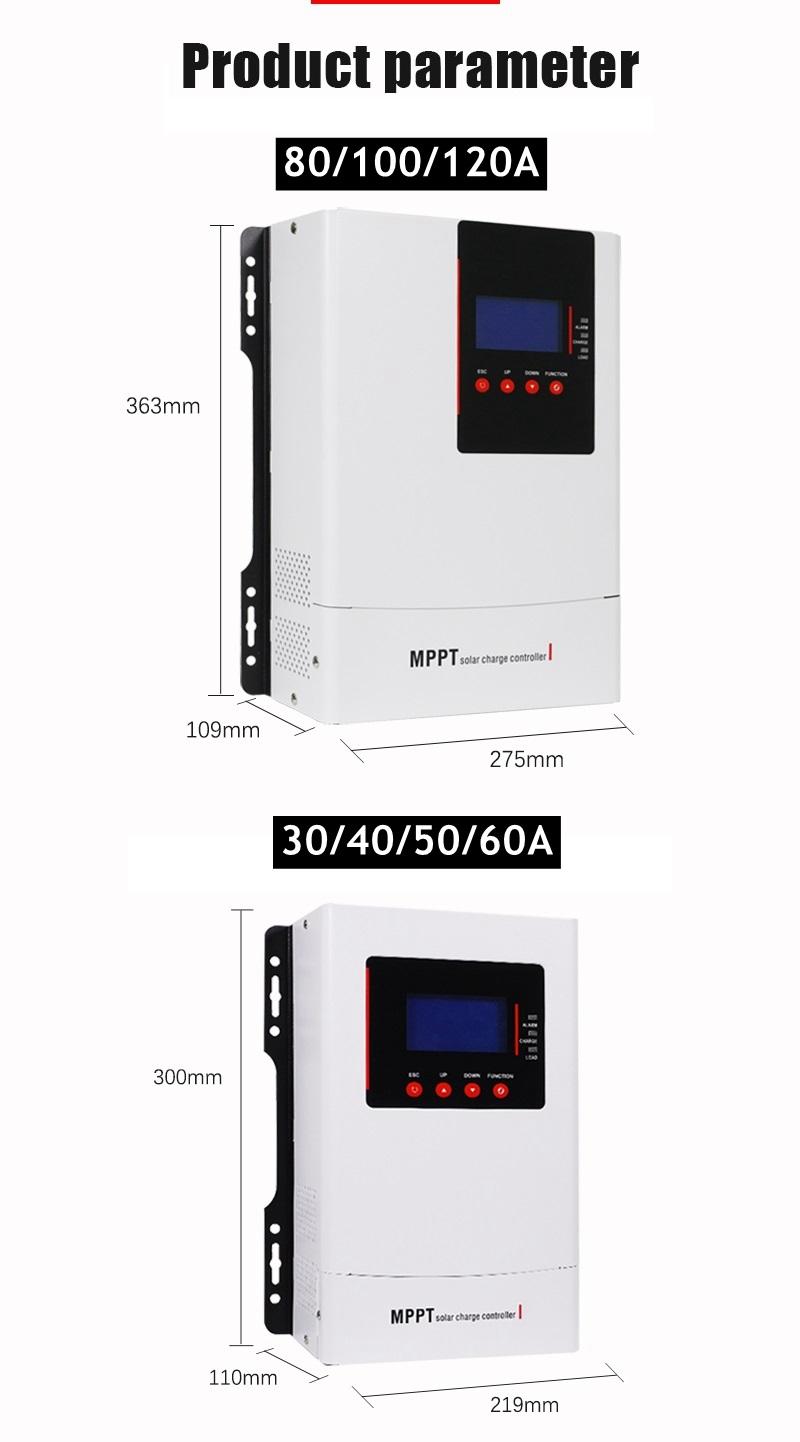 eter xxxxF

40415

60415

80415

100415

40825

60825

80825

100825

System rated voltage

12/24/36/48VDC or self-identification

96VDC

Controller operating voltage range

12~64V

72~128V

Lead-acid battery type

Maintenance-free (default)/colloid/liquid/custom

Lithium battery type

Lithium Iron Phosphate/Ternary Lithium/Custom

Rated charging current

40A

60A

80A

100A

40A

60A

80A

100A

Rated charging power

540W/12V
1080W/24V
1620W/36V
2160W/48V

800W/12V
1600W/24V
2400W/36V
3200W/48V

1040W/12V
2080W/24V
3120W/36V
4160W/48V

1300W/12V
2600W/24V
3900W/36V
5200W/48V

4160W/96V

6240W/96V

8320W/96V

10400W/96V

Maximum open circuit voltage of photovoltaic modules

150V (under the lowest temperature condition) 138V (under 25℃ condition)

250V (under the lowest temperature condition) 225V (under 25°C)

Maximum power point operating voltage range

12V system

20~150VDC

(96V system) 128~250VDC

24V system

36~150VDC

36V system

48~150VDC

48V system

64~150VDC

Tracking efficiency

≥99.5%

Maximum conversion efficiency

99.5%

Temperature compensation coefficient

- 3mV/℃/2V

Static loss

350mA/12V;170mA/24V;85mA/48V;

700mA/12V;350mA/24V;175mA/48V;

40mA/96V

83mA/96V

DC load output voltage

Can be turned on in 12/24V mode

/

DC load rated output current

40A

/

DC load output control

Normally open normally closed mode/time control mode/light control mode

/

Protective function

PV input reverse connection protection, battery input reverse connection protection, battery overcharge protection, battery undervoltage protection, battery over temperature protection, machine over temperature protection

Cooling method

Wind cooling

way of communication

RS485

LCD backlight time

Default 60S, backlight mode can be set

Environmental parameters

Working environment temperature range

- 20℃~+ 50℃

Storage temperature range

- 40℃~+ 70℃

Relative humidity range

0~90% RH

Mechanical parameters

parameter

40415F

60415F

80415F

100415F

40825F

60825F

80825F

100825F

Dimensions

219*300*110mm

219*300*110mm

275*363*109mm

275*363*109mm

219*300*110mm

219*300*110mm

275*363*109mm

275*363*109mm
More kinds of product, welcome to contact with us for any inquiry or E-catalogue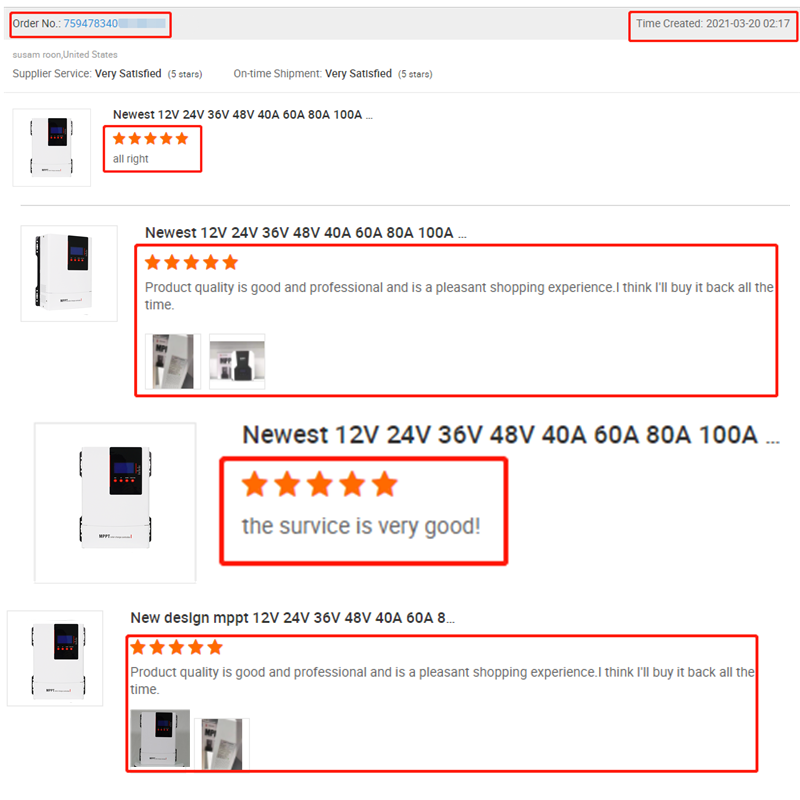 1. Attach the color sticker and label.

2. Put the battery charger and instruction manual into the color box.

3. Put into export carton.

4. Enter the warehouse and wait for shipment.

Neutral packing with English and Chinese manual.

Welcome to contact with us for customized logo and package.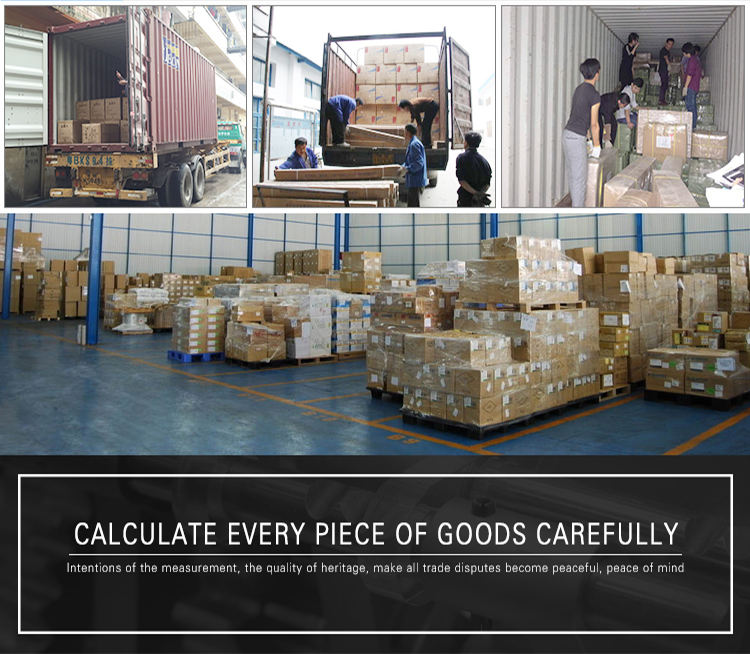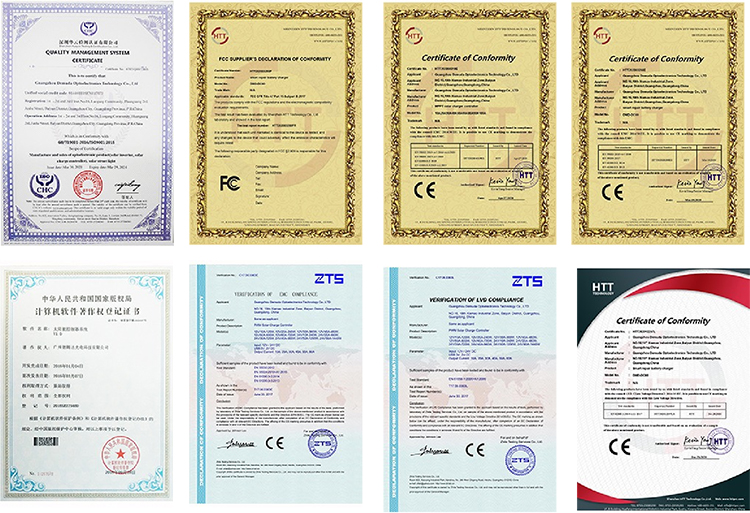 Founded in 2003, DEMUDA is a professional factory of high-tech enterprise specializing in R&D, Sales, OEM production of off-grid solar power energy supply and wind-solar complementary power supply products, such as SOLAR CHARGER CONTROLLER, SOLAR INVERTER, SOLAR PANEL, BATTERY CHARGERS and so on. With 18years professional R&D and design experience, software engineering experts, Testing Engineer team, and experienced manufacturing team, we can provide targeted products and solutions according to market and customer needs.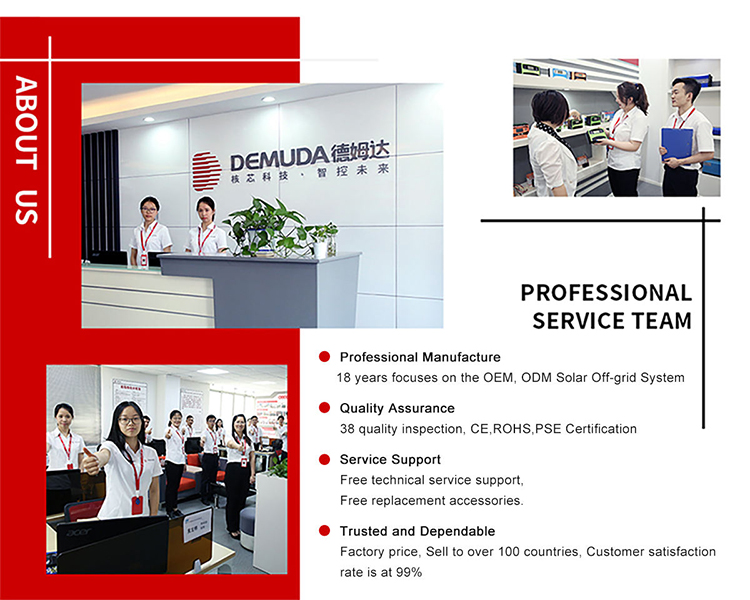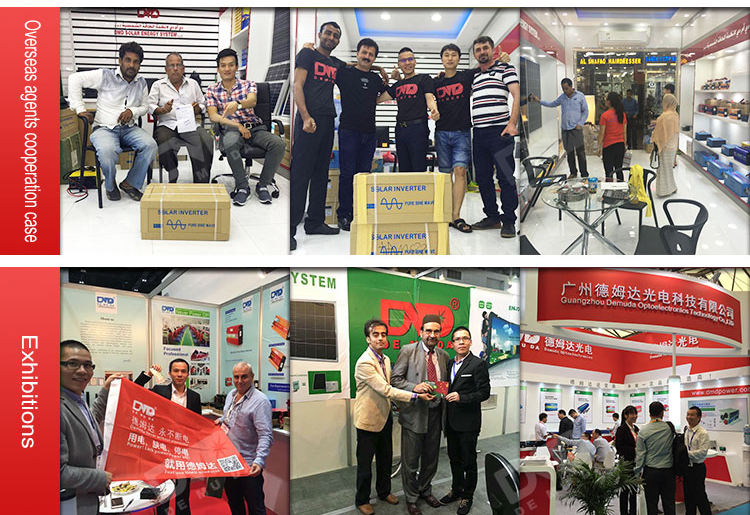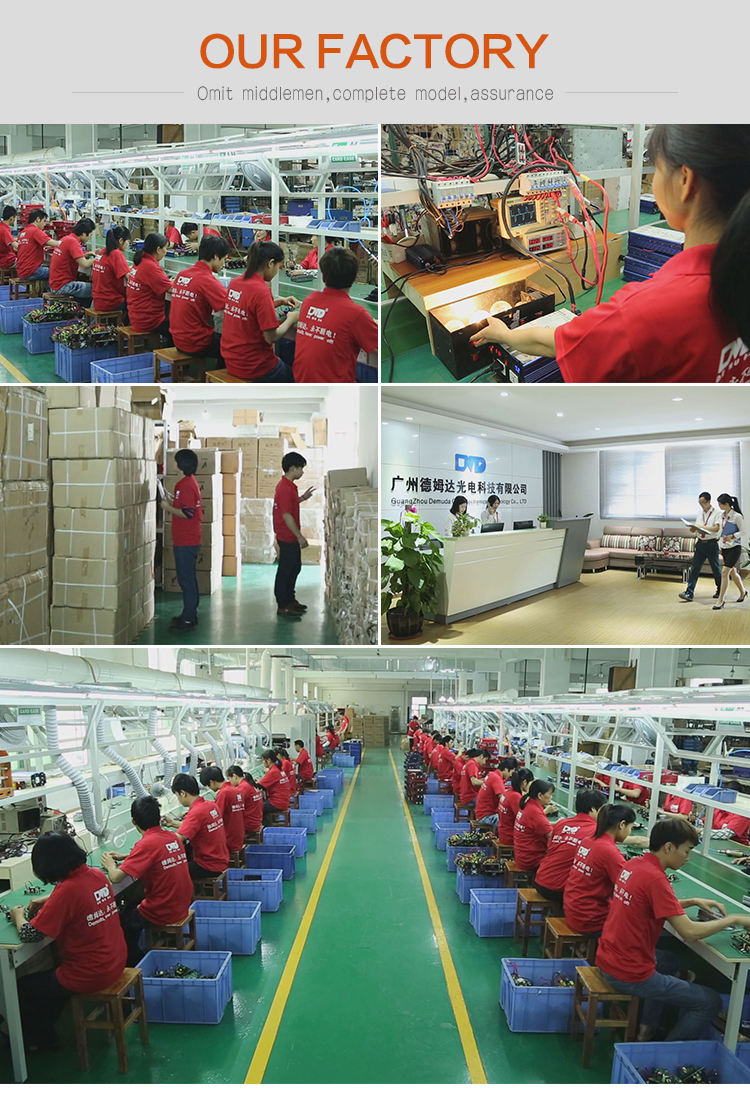 Q1: Do you support Ready To Ship, OEM&ODM?
A1: Yes, we are a powerful factory, one piece can also be shipped, and we can also customize products for you, the MOQ is much lower than many factories.
Q2: What is our advantage ?
A2: We have professional R&D team, can customized the products you want. We have 10,000 square meters and more than 100 staffs.

Q3: How can we guarantee quality?
A3: Always a pre-production sample before mass production; All of our products have passed certification of CE, CCC, UL and RoHS. Always final Inspection before packing
Q4: What can you buy from us?
A4: Car inverter, car bettery charger, car air pump, solar off grid hybrid inverter, Solar power inverter, Pure sine wave inverter, MPPT/PWM solar controller, Solar panels, Solar lighting system, Power station and ect.
Q5: How to select a suitable products?
A5: Tell us your demand, we can recommend a suitable products to meet your need.