Rayzeek Tech - Automatic sensor,Motion senssor,led lights control motion sensor switch Motion Sensor products
7 months ago
Driven by more different and unique needs from customers, we have successfully innovated and upgraded our currently-used technologies.Its high flexibility and versatility have made it popular in the field(s) of Motion Sensor products.
Suppliers
6F, B1 Building,Hezhou Hengfeng Industrial Town,Xixiang,Baoan,Shenzhen China 518102
Shenzhen Rayzeek Tech. Ltd. can provide the most efficient services and Automatic sensor,Motion senssor,led lights control motion sensor switch with the highest quality and most affordable price. Automatic sensor,Motion senssor,led lights control motion sensor switch enables the company to have more market share, stronger competitiveness and higher visibility. Shenzhen Rayzeek Tech. Ltd. relentlessly strive for innovations and changes, hoping to lead the industry development and improve our products and services in our unique way. We are committed to being one of the best enterprises in the market.
| | | | |
| --- | --- | --- | --- |
| Model Number: | BS010WL | Place of Origin: | Guangdong, China |
| Brand Name: | BESTER | Usage: | pir sensor, PIR sensor infrared detector |
| Theory: | pir sensor, infrared ray detector | Output: | Digital Sensor |
| Color: | black | output: | 5V-25V |
| Angle: | 360° | | |
Automatic sensor,Motion senssor,led lights control motion sensor switch
5-25DC! Small mini size!! High sensitivity!!! 8-10m sensor distinction!!!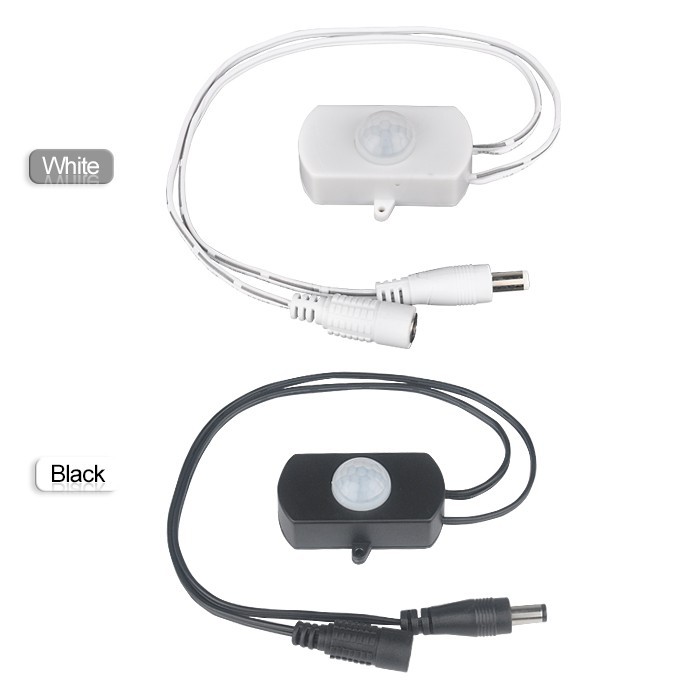 Description
Motion sensor is device can detect human movement by detecting Infrared ray emitted by human body.
Motion sensor BS010L with plastic housing, good appearence, small size, easy to instal.
Motion sensor working voltage is 12VDC,output voltage=input. Very good for LED strip, LED lighting products, Security System, automatic sensory device and more.
Specifications

| | |
| --- | --- |
| Model No | BS010L |
| Description | with light sensor |
| Operating voltage | DC 5~25v |
| Static power loss | ≤ 50 uA |
| Delay time | Default setting 15sec, delay time adjustable (1~30S) |
| Detecting range | ≤110 degrees cone angle, detect range 4~7M |
| Triggers the way | continuous triggering |
| Blockade time | 0 seconds |
| Output type | 5~15VDC |
| light sensor | yes |
| Dimension | 48*25*14 mm |
| Lens dimension | 17.2mm |
Explanation of some parameter
l .Delay time: After detecting human being movement, the module will output a signal
(triggering), delay time means the time of output last, from 1second-30seconds.
For example, if module used for lighting, the delay time is 20s, after detecting human
movement the light will keep on lighting for 20s.
2.Blockade time:After delay time over, there will be a time period of blockade, in this
period, any movement can not trigger the module, default setting is 0 sec.
Detect angle

Functions and Features
1. Automatic Induction: When people enter into the range of induction, it will output high
level; when people leave, it will turn off high level and output low level with delay.
2. Light sensor control (it is optional, default setting: no):It will trigger only in the
darkness.
3. Triggering in two ways:
Note
1. Don't exposed to direct sun light or lighting, big wind, near a heater or air condition.
2. Don't fix it at a place where there are obstructing material (eg. Glass, dense clothes)
which IR cannot get though.
3. Don't fix it in strong shock or vibration environment.
4.The first time use the PIR Motion detector module, it need about one minutes
initialization time, during this time, the signal triggered by the module not stable, after
one minute, module will be normal.
5. The sensitivity for left-right direction is better than up-down direction, so please make
sure the installation direction is left-right.