Professional immersive Led Wall Case in Australia
1 year ago
The customer  in Australia prefers iDisplay immersiv pro for its project.

Pixel pitch: P2.6mm
Screen dimension: 2.5m*2m
Installation time: on June 2021.
Installation spot: Australia

Suppliers
3rd Floor,5th Building, FLT industrial park, Longhua, Shenzhen, China
Immmersiv Pro is a virtual production version perfectly meet the XR stage and studio requirement.

Its profound design is a great merge of strength, beauty, stability, human friendly operation and maintenance.
It is amasterpiece that help assembling a structurally fine wall, delivering quality image.
Available pixel pitch:
Indoor : P1.5mm, P1.9mm, P2.6mm, P2.9mm, P3.9mm
What is performance of iDisplay immersiv Pro XR
1. 1500 nits plus
2. Real color, compatible for REC2020 with Brompton and Novastar controller
3. Up to 22bit+, compatible with Brompton and Novastar controller
4. Wide and uniform color at different veiwing angle
5. High refresh rate more than to make sure no shooting lines under random scanning of camera.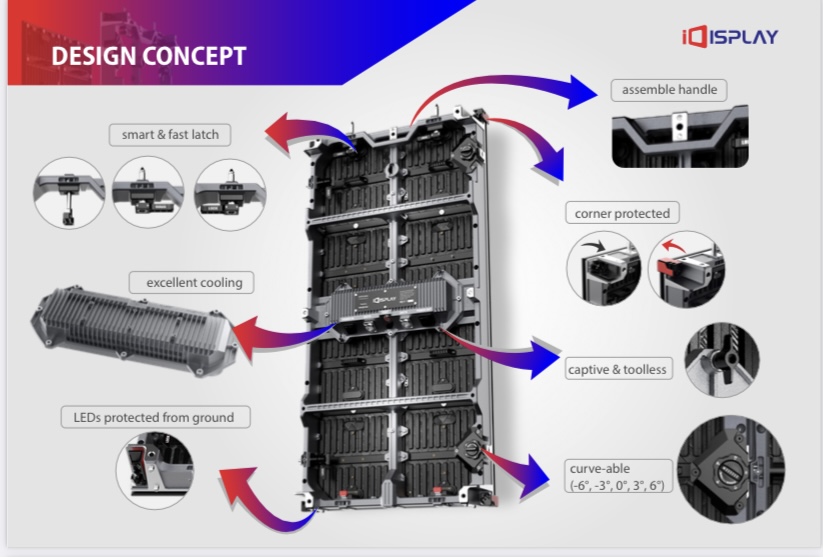 About iDisplay
Shenzhen iDisplay Technology Co., Ltd is a high-tech commercial display provider, which focus on oversea market. Founded in 2014 and located in Shenzhen, China. We devote designing and manufacturing led display for commercial filed such as Chain store, shopping mall, billboard, video wall, lighting post sign etc. Meanwhile, we have lots of experience to do ODM and OEM according to the requirement. 100% of iDisplay screen were exported to oversea market while 90% were shipped to Europe and America including countries and areas such as UK, France, Finland, Spain, Portugal, Italy, Russia, Poland, Turkey, Germany and The USA. Our products are mainly designed for retail application, the regular products are including indoor poster-"iPoster", outdoor poster-"oTHposter", shopping shelves screen-"gShelf", "iShelf", flexible screen - "iFlex", traffic sign "iVMS" and outdoor fixed screen "oTHmedia". We are pursuing of building "iDisplay" into a world-renowned brand in an unique market position, helping one hundred of local led display wholesaler and contractor companies to service for their end user, offering them the best products and on time technical support via our R&D, manufacture and service.
Suppliers
3rd Floor,5th Building, FLT industrial park, Longhua, Shenzhen, China